Program Management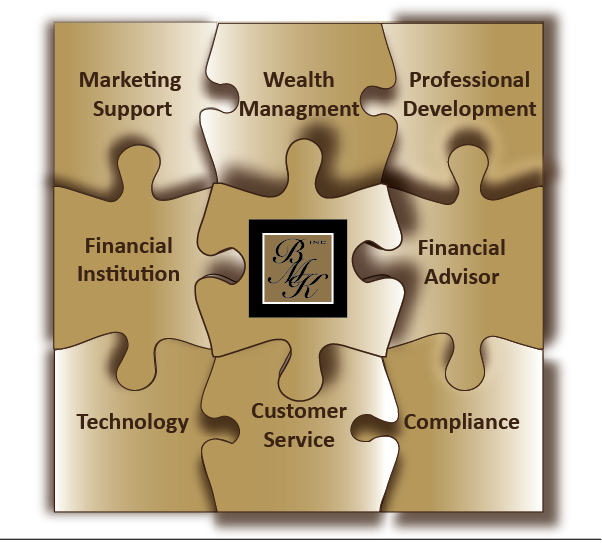 "The Key Piece to Your Success"
Managing a successful Investment Program at a Financial Institution can be a complex and often difficult puzzle to solve. There are many different pieces that must be managed on a daily basis to provide your customers with an end product that meets their needs, when they need it.
The many puzzle pieces that Bennett, Mastin & Kosmak, Inc. integrates to create a successful Investment Program include:
1) The Financial Institution
What are the goals and needs of the Financial Institution for an investment program? What products and services does the Financial Institution want to provide for their clientele? Bennett, Mastin & Kosmak, Inc. works with you to achieve the brand vision and goals of your program.
2) The Financial Advisor
Finding the right individual for the Financial Institution cannot be emphasized enough. What kind of education, training and on-going support does the Financial Advisor need to be successful? Bennett, Mastin & Kosmak, Inc. helps you recruit and provide ongoing support to the Financial Advisor who will partner with your staff and clients.
3) Wealth Management
The investment options and products to meet the needs of the end user continue to change rapidly. Bennett, Mastin & Kosmak, Inc. provides the Financial Advisor with extensive Wealth Management capabilities and will consult with you on the time-tested products and services which work well for clients in a Financial Institution setting.
4) Technology
Finding the technology that best fits your program can be challenging. Bennett, Mastin & Kosmak, Inc. provides the expertise to put the technology puzzle together in an efficient package to meet the Programs' and Financial Advisor's needs.
5) Marketing
Regulations and requirements for marketing your investment program are complex, dynamic and ever changing. Bennett, Mastin & Kosmak, Inc. helps you formulate and deliver your marketing brand. Developing a consistent, compliant message is vital to enhancing the program and awareness for the clients/members, thereby minimizing risk to your program.
6) Compliance
Bennett, Mastin & Kosmak, Inc. as the OSJ (Office of Supervisory Jurisdiction) provides personal supervision of your investment program and Financial Advisor's. We insure that your Investment Program and Financial Advisor are in compliance with FINRA and the Securities and Exchange Commission, always focusing on regulatory requirements.
7) Customer Service
Providing consistent, quality information and service to the Investment Program Team is vital to the Financial Institution and to meeting the needs of the end client. Our knowledgeable staff, the Cetera Resource Center, and Brokerage Operations Team deliver superior service for your Advisors and end clients.
8) Professional Development
Continually providing relevant education and knowledge to your Financial Advisor is vital for long term growth and success. The Financial Services universe continues to expand quickly, so must the understanding of the Financial Advisor.
Bennett, Mastin & Kosmak, Inc. is strategically focused to manage each of these puzzle pieces to develop an Investment Program for your Financial Institution with one driving goal, to provide appropriate solutions to your client. By accomplishing this goal first, we are able to increase productivity and profitability of the program, and develop strong partnerships with the Financial Institutions and Financial Advisors.
Bennett, Mastin & Kosmak, Inc.- a Key Piece to Your Success.
Securities and advisory services offered through Cetera Advisor Networks LLC, member FINRA/SIPC. Cetera is under separate ownership from any other named entity.
Individuals affiliated with this broker/dealer firm are either Registered Representatives who offer only brokerage services and receive transaction-based compensation (commissions), Investment Adviser Representatives who offer only investment advisory services and receive fees based on assets, or both Registered Representatives and Investment Adviser Representatives, who can offer both types of services.
This site is published for residents of the United States only. Financial Advisors of Cetera Advisor Networks may only conduct business with residents of the states and/or jurisdictions in which they are properly registered. Not all of the products and services referenced on this site may be available in every state and through every advisor listed. For additional information please contact the advisor(s) listed on the site, visit the Cetera Advisor Networks site at www.ceteraadvisornetworks.com.
Online Privacy Policy | Privacy Promise | Business Continuity | Important Disclosures | Order Routing